From the Indian Grassroots
She quit her corporate job to build mud houses and is now teaching the world her skills by going Back to the Earth with her Geeli Mitti Farms
We all talk about the need for sustainable alternatives in our lives. Our social media feeds are full of hacks on how to become more sustainable and lead an eco-friendly lifestyle. We are much aware of climate change and how even the smallest of efforts can help heal our earth. But in reality, how many of us walk the walk and practice what we preach and see? Awareness is the first step but adapting eco-friendly practices on a personal level is the challenge. We try to make small changes but go back to our old habits as they are convenient and don't require much effort.
What if we told you that being sustainable is not that hard and when you are determined and motivated, you can create a livelihood for yourself and others?
Shagun Singh, the founder of Geeli Mitti Farms, is one such eco-warrior who rose above a comfortable corporate life and reconnected with her roots. She didn't just revamp her life but also spread knowledge to help others do their part.
How it all began?
Shagun was following a standard career path having majored in finance. She embarked upon her corporate journey and worked for over 10 years at several MNCs. She had no education or family background in sustainable living, organic farming, etc. However, she was always keen to learn and explore therefore on her vacations she made sure to volunteer and travel to different parts of the world. Her travels took her to farms all around the globe where she learned organic farming and participated in workshops related to other sustainable activities like building a house with sustainable materials, learning food preservation and canning techniques, and many other specialized courses.
She quit her job in 2015 and commenced working on Geeli Mitti Farms. Located in a small village called Mahrora in Nainital, this farm is a perfect example of man and nature coexisting in harmony. Initially, the farms weren't envisioned to provide learning or training of any sort. Shagun wanted to experience and live in that environment, build mud houses with her own hands and enjoy the tranquility and beauty of such a dwelling. Soon after she started, the word started spreading around and people showed genuine interest in learning her techniques. Hence, Geeli Mitti farm became a permaculture farm and learning center. People go there for vacations, participate in workshops and disconnect from urban life to reconnect with nature.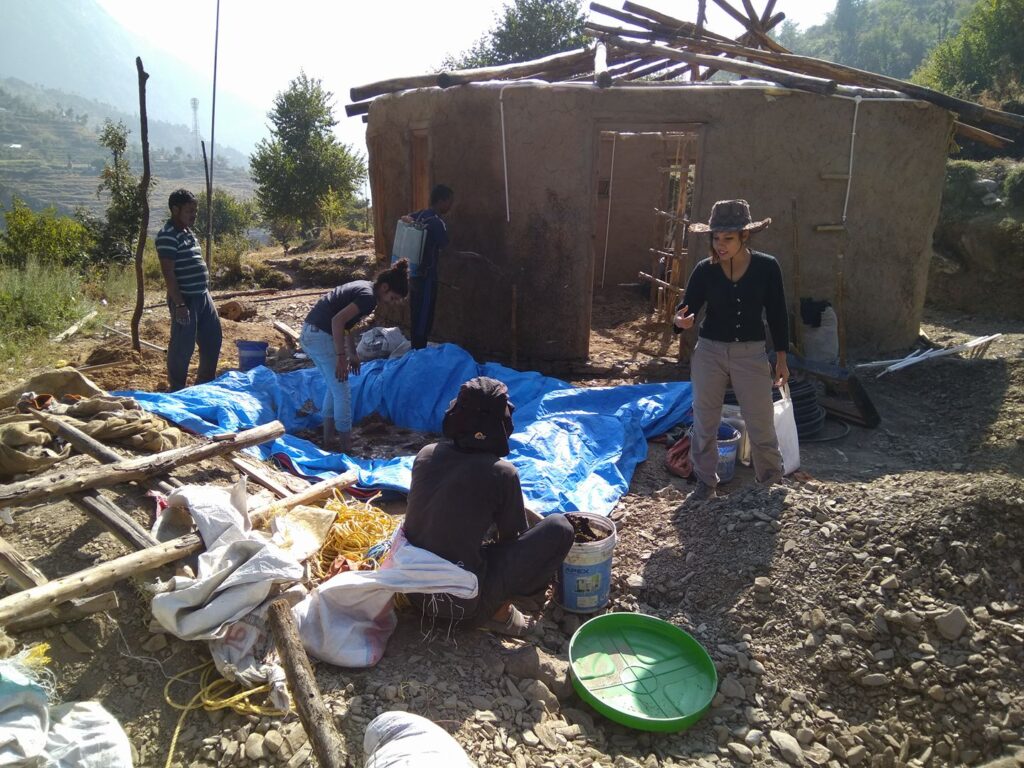 Down To Earth
Everything at Geeli Mitti farms comes from the earth. All the materials used in the making of these houses like mud, clay, lime, stone, bamboo, etc. are present right there and are extracted and used in a sustainable manner. The houses are built using 4-5 different types of techniques and can withstand storms, floods, temperature changes, and much more.
The structural durability combined with basic scientific knowledge and the use of the right materials will help these houses sustain longer than 200 years.
Shagun has welcomed people from all over the world to come and learn from her. Local farmers, urban dwellers, and foreigners from all over the world travel to Geeli Mitti. They stay there for 10- 45 day workshops, learn and build homes with their own hands and take this invaluable knowledge back to their countries and homes. Through permaculture techniques, a huge amount of food is grown using a small piece of land. Farmers come from all over the country to learn such techniques, and go back and implement them on their farms.
Geeli Mitti is also an attractive tourist spot for people who need a break from the hustle and bustle of cities. Shagun also believes that these homes provide a sense of spirituality. Families with children visit these farms and stay in one-of-a-kind mud houses, participate in various activities and experience the calmness of nature.
The power of Mud
We all believe that cement houses are more durable, safe, a sign of luxury, and the only way to live. Shagun doesn't agree with any of these theories and calls them myths.
A cement house when locked for even a week or 10 days at a stretch is inhabitable before it is aired out and allowed some time to breathe. A mud house when locked for even 2 months at a stretch feels fresh as the walls are continuously breathing. These houses when made with the earthbag technique can withstand deadly earthquakes where concrete structures collapse and turn into rubble within seconds.
Innovation is a key ingredient at Geeli Mitti. There is a house with a Mahindra Bolero parked on the roof. Why? The logic is simple. As these hilly regions don't get a lot of sunlight, the roof of this house is south-facing. Cars turn extremely hot when they are parked under the sun. This trapped heat dissipates into the house keeping it naturally warm during winters. During summers, the car windows are rolled down and the cool breeze settles into the house allowing heat to escape. Isn't it fascinating?
Geeli Mitti farm is home to many such wonders. Each house is unique in its own way and has a luxurious feel to it. Shagun doesn't believe in shunning the comforts of the world in order to be eco-friendly. She believes in doing it smartly by simply using what we already have in abundance and a willingness to change our beliefs.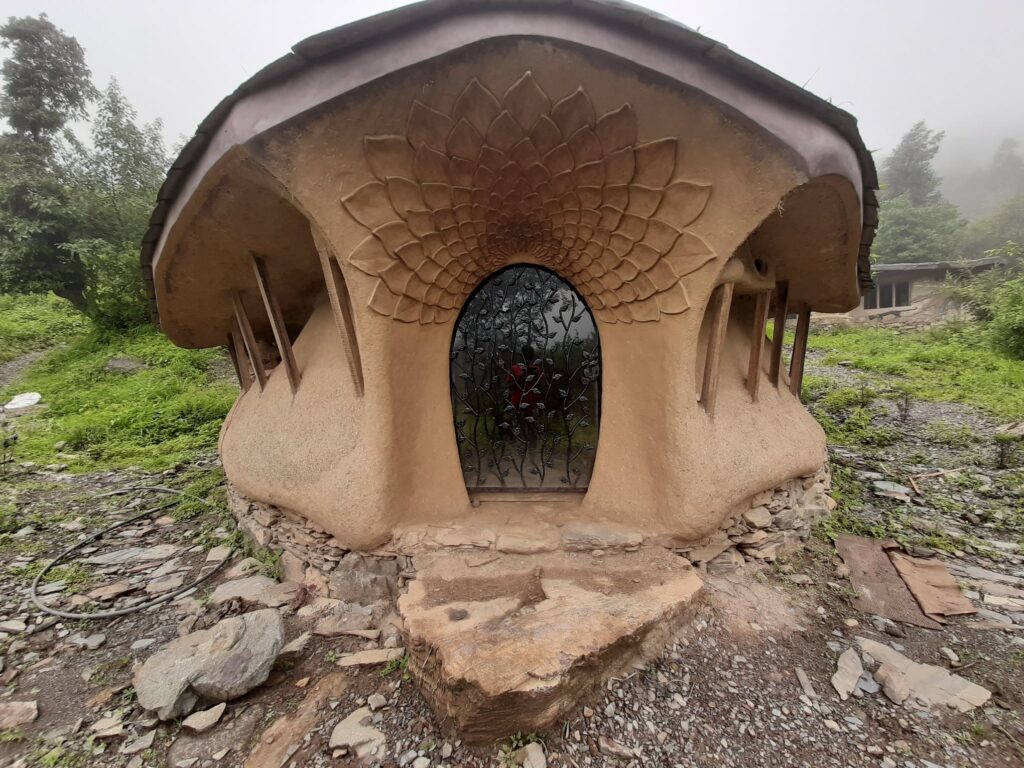 Greater good
Shagun has helped build 12-14 mud houses in different parts of India. She partnered with an NGO in Delhi called Lakshyam and built a school without using bricks or cement right in the heart of our country, New Delhi. Hence breaking another myth that urban cities cannot adapt to mud structures. She taught the kids of the NGO how to build a sustainable home using the earthbag technique. These houses are not only sustainable but are super cost-effective as well.
The Geeli Mitti foundation also engages in a number of livelihood programs. One such initiative is to fight against plastic pollution. Team Gilli Mitti is actively working with female prisoners in Delhi. These women stitch cloth bags which are sold and the money earned is deposited in their accounts. This initiative helps them learn an important trade, transform their lives, and brings Shagun's pursuit of ridding the environment of plastic waste one step closer.
Shagun is lovingly known as Shagun Ma'am or the 'Garbage Girl' as she turns everything into something useful. Shagun's story is an inspiration to all of us who want to lead a sustainable lifestyle but don't know how. It is all about mindset, shunning overly marketed beliefs, and getting our hands dirty (literally). She took charge of what she believed in and gave it her all. Nothing in life comes easy but where there is a will, there's a way and sometimes it leads to an enchanted farm of bespoke houses and an ecosystem that is completely balanced, thriving, and how!
Source: She The People, Youtube