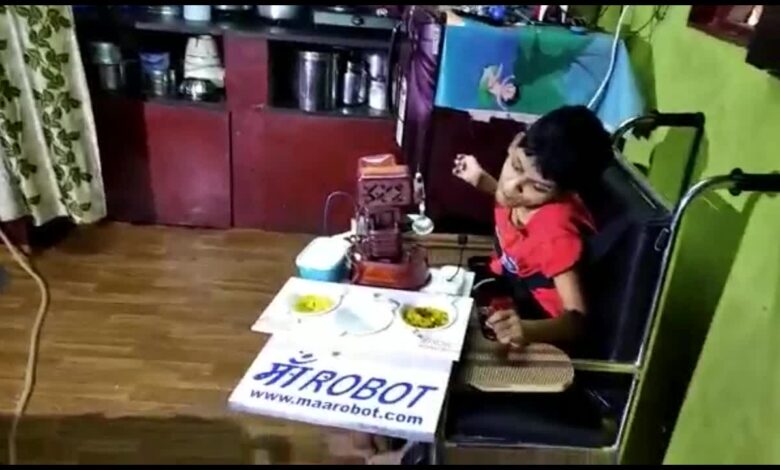 We all go an extra mile for our loved ones and can't stand to see them in pain or trouble. Often due to our qualifications and the nature of the crisis, the help is limited. However much it pains to see them ailing, we find ourselves helpless and make our peace with the situation over time. Well, this father did not leave things up to fate and decided to do something about her differently-abled daughter.
Do you believe that every problem has a solution? If you are skeptical, then Mr. Bipin Kadam's story will shed a new and positive light on your outlook toward life. This story is of a simple man, who self-taught himself through the internet and used his versatile work experience into building a robot from scratch.
The Inspiration
Mr. Bipin, a resident of Bethora village in Ponda taluka of South Goa has not had an easy life. He completed his education till 10 Standard and then started working on a daily wage earning basis in a manufacturing company. Even though he started there as a helper, his quest for knowledge and willingness to learn helped him work his way up. He is now a CNC designer and programmer at the same firm. He has over 20 years of experience in designing and developing different parts for various projects. He is also adept at using UG NX software and can design parts on his own.
This experience is vital in his journey as it helped him in the creation of 'MAA ROBOT' for his daughter.
Bipin's daughter Prajakta, now 17 years old, is differently abled. She can't walk or even sit upright on her own. Her brain is still that of a child. She can't eat food herself and needs assistance for the same. Even after consulting many doctors, her condition remains the same. Bipin works for 12 hours a day and his wife takes care of Prajakta. A few years back she was diagnosed with Vertigo which left her bedridden. Due to this, the couple could not feed their daughter on time which caused them a lot of distress.
He wondered if a day arrives when he is unable to take care of her, what will become of his daughter?
He then wanted to find a solution to make her self-reliant and improve her quality of life.
My daughter Prajakta may be handicapped but for me she is like a celebrity who inspired me to create a MOTHER robot.
Creation of the 'MAAROBOT'
Without any formal education in robotics or an engineering degree, Bipin created a robot that is one-of-its-kind. His innovation is a hail mary for his daughter and the entire family. Bipin doesn't come from an affluent background. He lives in a 10 X 10 house with his wife and kids. Looking at his wife's health and his hectic schedule, he commenced the project MAA Robot. After working for 12 hours at his day job, he spent at least 2 hours building the robot. He educated himself via the internet and learned robotics programming. As for parts and materials he has used ice cream boxes and bottles in the creation of this robot. He also printed some parts at his work and put together a voice sensor robot.
My daughter Prajakta's innocent face always motivate me to learn all these things.
The robot works on voice commands. A total of 15 commands can be saved into the robot currently. It has different compartments for food and a movable arm with a spoon attached at the end. As soon as Prajakta gives a command into the microphone, the robotic arm identifies the correct dish, takes a spoonful, and feeds it to her. This innovation is helpful not only for differently-abled people but also for people suffering from various diseases. He has also built a button version for people who can't give voice commands.
Prime Minister Narendra Modi has been promoting an Atmanirbhar Bharat. In the same way, I wanted to make my child atmanirbhar and not dependent on anyone.
The Aftermath
Bipin's innovation made the impossible, possible. Who would have imagined a 10th-standard graduate can build a fully functional robot in such a short span of time? His work got recognized by The Goa State Innovation Council. He was lauded by the council and has also received financial aid to better his innovation and turn it into a commercial product. It cost him Rs.12000-15000 to build this robot. As per The Council's project director Sudeep Faldesai, the Maa Robot is a scalable product and can help many others facing similar situations.
Bipin wants his innovation to reach every person in need and urges everyone to come together, spread the word and donate towards his projects.
I want this MAAROBOT to reach disabled children so that they don't have to depend on others. That's  why I want to build a team which will understand the problem of society and solve it in a scientific way. I am doing this work  because in my mind there are many projects which are helpful to the society but till date, I did not get any platform to work on them. If we come together we can make many projects and it will be helpful for our society. 
Source: The Better India, NDTV